PLAYS IMPERFECT PEOPLE IN DIFFICULT SITUATIONS
One published statistic says it takes 200 auditions to book an acting job. Of those auditioning, only 10-15% are seriously considered. Don't kid yourself. Audiobook narration is the most intimate form of acting; it is not reading.  And, it's hard work.  If a major publisher has a choice between hiring 1) someone that person has worked with or 2) a stranger with fabulous demos and good experience, but otherwise unknown, guess who has the decided edge? COVID has made meeting publishers not quite impossible, but it's close. And, while the number of audiobooks produced continues to grow by more than 10% every year, the number of folks vying for work has exponentially mushroomed. 
This is not an easy business, but then I've never been a big fan of "easy". I decided 2022 would be "my year" to hit the goal of producing books with major publishers. It happened. I booked a Penguin Random House trio-cast audiobook and three non-fiction books for Rowman and Littlefield. And I did six more books for wonderful Indie authors. It feels great!
While I was lucky enough to get a slot in the Audio Publishers Association speed dating event (no auditions, just connecting with a dozen publishers via the world's fastest five minutes of elevator speech), success came by submitting to rosters, finding alternate ways to approach producers, and additional training. Treating an old, and unknown to me, vocal chord injury was another game changer. The coaches were right. This business is a marathon, not a sprint, and the winning route is ever-changing. But, I can't wait for 2023! — Cindy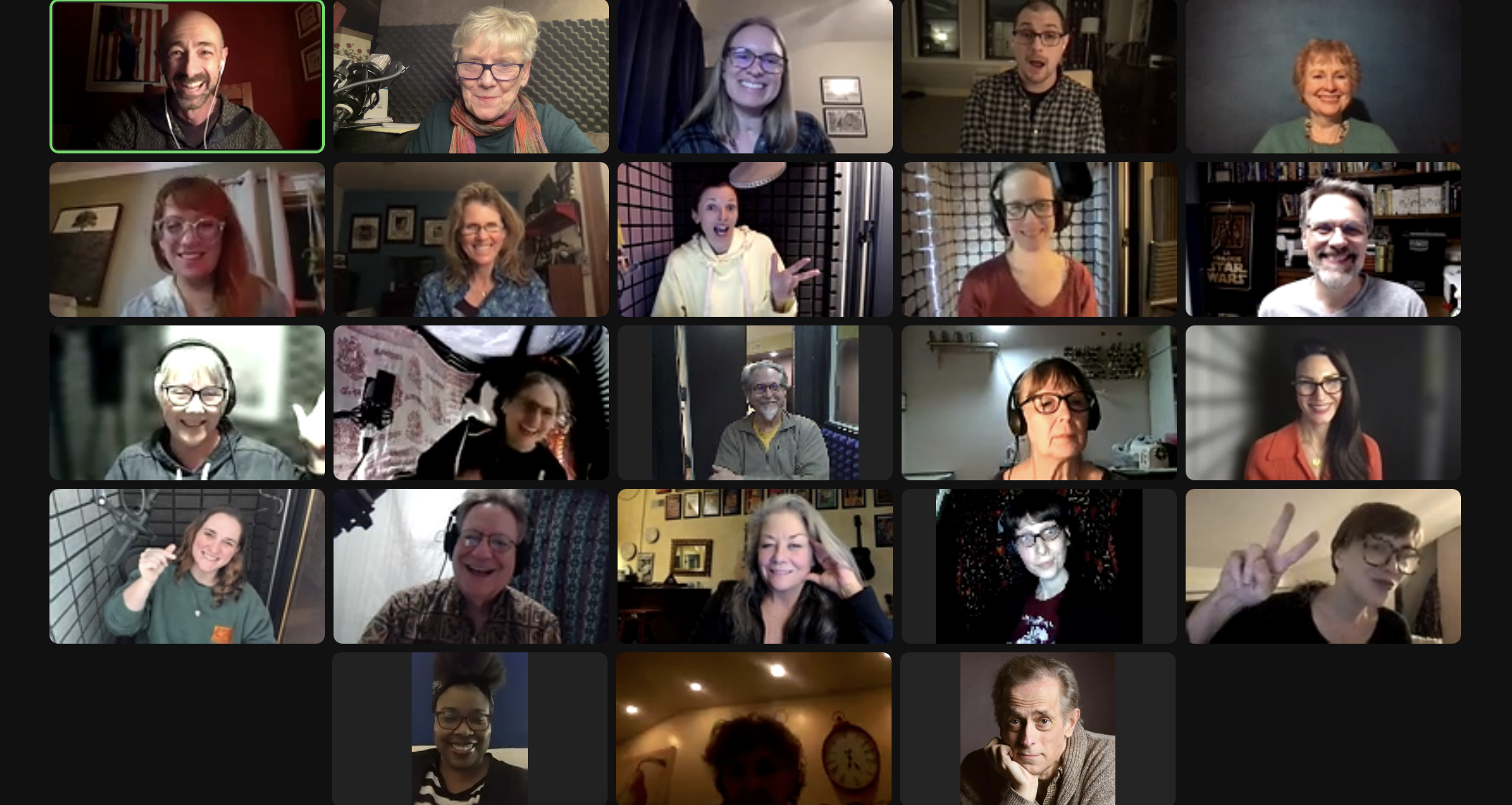 While my plan and reservations for this fall's Northeast Narrator Workshop were nixed due to a nasty, highly contagious virus, I loved participating in six 3 1/2 hour sessions with host and coach P.J. Ochlan, along with producers and casting directors through the Deyan Institute's Masterclass series. Exceptional supportive and insightful feedback (this one with Bryan Barney, Blackstone Audio) and learning from reads by talented, engaging narrators will have me signing up again the moment reservations are open next year.
A sinister novel based on the real Bloody Benders, a family of serial killers in the old West bound by butchery and obscured by the shadows of American history with. Teri Clark Linden and Michael Crouch provide the other two voices for this Penguin Random House production.
A desperate mother grapples with impossible choices. Her young son is becoming too dangerous to live at home but he's only growing bigger, stronger, and more violent while in treatment. Based on a shocking true story, this reads-like-fiction memoir exposes the dysfunctions of the child welfare and mental health systems and how they are failing kids and their families.
Author Chad Darnell hope to turn "Buying the Farm Into a limited tv series and is knee-deep into other productions so dreams of it becoming an audiobook remain just that. Regardless, this sample of his mystery with unusual plot lines, quirky characters, and a scheme most people would never think of, let alone seriously consider, is too much fun not to listen. Enjoy!
"Hearts Rekindled", the 3rd of the Bell Bomber Bride Series is a feel-good WW II historical fiction romance about a love that just wouldn't or couldn't die despite all the family secrets.
Merilee Daniels Davenport's former husband returns to their small Georgia town after fighting in the Pacifce bearing a letter from the little girl he didn't know he had. Can he prove he can be the husband Merille deserves and the daddy his daughter needs?
Profiler Emilia Sanchez barely escaped the clutches of a serial killer. She wants is to forget the incident and move on with her life. Everyone thought the murderer was dead, but it turns out she's not at all safe.
Texas Ranger Bennett Knox rescued her the first time, but the case aways haunted him because of the way the investigation ended. Together they uncover fresh evidence and new questions about who can be trusted.
A fast-paced romantic suspense.
"Cindy is always a joy to work with. Her narration brings the characters to life and the completed audiobooks are high quality. She's timely, responsive to feedback, and creative. A true professional. I highly recommend her!"
"Although I knew about writing and Maya Goode knew about producing audio from her podcast, we didn't know much about audiobooks or the audiobook market. We were looking for someone to partner with who could translate what we thought we had to a good listening experience. Cindy Piller is and has been the perfect partner for us, and we're really happy we all found each other."
"All Cindy's training and hard work come through in her finished narration. Wish I'd found her sooner."
"Oh my gosh, I couldn't wait to listen. I have a thousand papers to grade but curiosity got the better of me. I listened to Tino in chapter six. WOW! I love him! You continue to amaze me. THANK YOU FOR BEING AWESOME! I am an enthusiastic and satisfied customer!"
"Very much enjoying what Cindy Piller brought to the story. Her professionalism and flexibility were great. Really like the pace and rhythm she established. She did remarkably well with some of the more knotty sentences.
Color me impressed!"
"Holy smokes, you've done an amazing job! Fantastic! Thanks so much for your work!"
Engineer for On the Porch Creative
Proofed the audiobook of Lars Emmerich's "The Wrong" narrated by the amazing Cindy Piller. It's a great book and she really pulls you into the story. I found myself totally immersed as I listened to her."
"The reviewer agreed with me, that you were perfect for the story. I'm very glad I waited for you and was able to correctly 'finish' the story. Without your help, it wouldn't have happened."
"Thank you for your fantastic work on "Painting with Fire". I loved how you brought my characters to life off the page and captured the soul of the story."
with your questions, comments, or to sign up for her quarterly e-letter.